Party Games Involve Many Players
Listed below are a few of the best party games currently available. Click the links or the pictures to check the price of each on Amazon.
The Best Party Game – An At-Home Escape Room Game!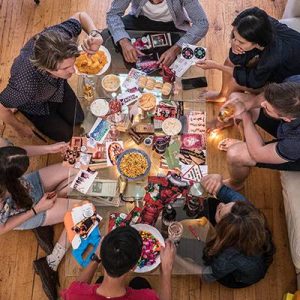 Escape room games are super popular nowadays, and I can see why. They get people involved – and that's exactly what we need from a party game.
At-home escape room games may not have the polish of 'pro' escape rooms, but they're a fun, immersive experience that you can easily scale up or down to accommodate literally any number of people.
Click here to read more about how to host your own escape room party.
.
Envy – Work together to crack fun puzzles and solve a mysterious murder.
Lost Mummy – Escape a spooky tomb in this at home escape room game that's great for playing with the kids.
Frost – Team up to beat the challenges of the Winter Faire in a kids escape room game that's perfect for young girls.
Time's Up! (several versions) – Guess famous names quickly; clues are restricted.

Dixit – The dictionary game with pictures

Telestrations – Combines the telephone game with Pictionary

The Resistance – Support or sabotage the mission.

PitchCar – Flick your car around the track faster and better than your opponents.

The Werewolves of Miller's Hollow – Eliminate suspects until the werewolf is discovered.

Wits & Wagers (Party) – Bet on numerical trivia questions. Wager wisely to win.

Tumblin-Dice – Dexterity dice rolling – or pushing.

Liar's Dice – Bid the communal faces of the dice until you're the only one left.