The Most Thematic Game You'll Play – An At-Home Escape Room Game: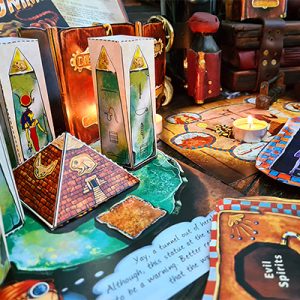 If you're after a truly immersive experience, I just have to recommend that you try an escape room game. You don't need to head out to an expensive venue though – you can easily replicate the whole experience in your own home.
This is because escape room games are designed to be 'experienced' as much as they are to be played. It's not just a game, it's a story that you're trying to tell with your players.
The key is to sell the theme is with a few consistent props, an interesting story, and some puzzles that 'make sense'. You don't have to go all out.
Check out this article to see how you can run an escape room game in your home, easy.
.
Envy – A 1920's Gatsby style murder mystery game of debaucherous luxury and deadly feuds. Get ready for a night of velvet gloves, blood-stained.
Lost Mummy – Trapped! Can you escape the mummy's tomb before you become it's new resident? (perfect for kids and families)
Frost – The Winter Faire holds many magical secrets. Work together in this at home escape room game to uncover them one by one.
Mage Knight – Cooperatively (or solo) defeat all the monsters before time runs out.

War of the Ring – Control the land as the Free Peoples or Shadow Armies.

Earth Reborn – In a post-nuclear-disaster world, seize control as NORAD or the SALEMITES.

Battlestar Galactica – Humans against Cylons – or is it?

Runewars – Battle each other in a fantasy world.

Twilight Imperium – Lead your galactic civilization to control of the imperial throne.

Claustrophobia – Recreate battles in the underground tunnels below New Jerusalem in the universe of Hell Dorado.

Thunderstone – Build your card deck to fight the evils of the dungeon.

Blood Bowl: Living RuleBook – Imagine orcs and elves competing in football.
Chaos in the Old World – Use your god's unique abilities to conquer the others and the inhabitants of the Old World.

Space Alert – Cooperatively complete your mission safely and quickly in your small spaceship in real time.