Playing Games and Music
This past weekend, I was in Marietta, Ohio, a town of roughly 15,000 located in the southeastern part of the state on the West Virginia border. I traveled with my wife, one of my sons, and several of our friends, most of whom make up our church band which we call The Heralds.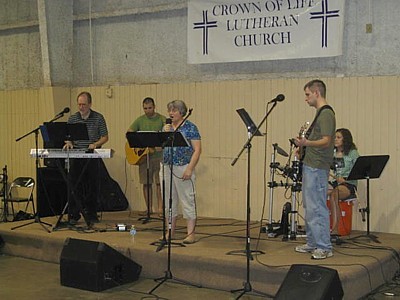 We were invited to sing and play for an event that Crown of Life Lutheran Church calls "Walk with the Animals", which centers around the Biblical account of Noah and the flood. While that (and playing for their church service on Sunday morning) were the most important and funnest reasons for being there, I didn't miss the opportunity to teach some fun board games to several people, including the pastor and his wife.
We brought both Carcassonne and Ticket to Ride (yes, the typical Euro, gateway board games) along in the car. We found a little time to get part of a game of Carcassonne in at the "Walk with the Animals" event.
Later that evening, we managed to play both games by splitting those in attendance into two groups. I got to teach and play Carcassonne with Joel and Jocelyn. I took a big chance with a cathedral (from the Inns and Cathedrals expansion) and ended up with a 63-point city. I'm pretty sure that's the largest one I've ever seen. (Sorry, J&J, I'll go easier on you next time…maybe.)
Origins Game Fair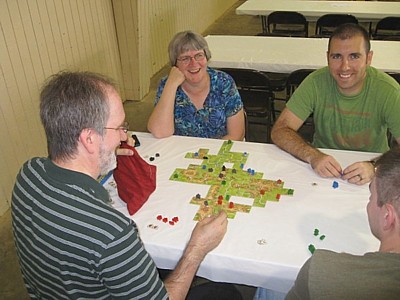 Not too far to the northwest of Marietta (take I-77 north and I-70 west) is Columbus where the Origins Game Fair was going on this same weekend. So I dubbed our little gaming sessions "Origins South".
Just because.
So we played, and we played this weekend. The 10-hour trip each direction wasn't too bad. We barely had to slow down either time going through Chicago.
We made several new friends whom we hope to see again sometime. And hopefully our playing and our playing planted several types of seeds in the hearts and minds of those we played music for and those we played games with.
How To Have Fun Playing and Playing