Spiel des Jahres Winners – 2006-2010
Spiel des Jahres (SdJ) is German for Game of the Year. Listed below are the last (as of this writing) 5 winners of this coveted prize which is generally awarded to a family type of game – one that you'd likely enjoy playing with your (grade school aged) kids.
Thurn and Taxis is a racing game of sorts. You want to be the first to play your stations (house-like wooden bits) on the board in various combinations that will score bonus points leading to victory.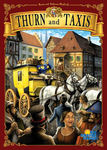 Game: Thurn and Taxis – SdJ 2006
Players: 2-4
Theme: Connect postal routes by building stations in and around Bavaria
Genre: Collecting sets of cards
Length: 45 minutes
Cost: Check price on Amazon
~*~*~*~*~
~*~*~*~*~
In Zooloretto you need to manage the different types of animals in your zoo to make it interesting to visit, productive baby animal-wise, and safe. Accomplish that feat more effectively than anyone else and you'll win.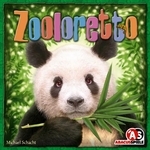 Game: Zooloretto – SdJ 2007
Players: 2-5
Theme: Build a better zoo
Genre: Collecting sets of tiles
Length: 45 minutes
Cost: Check price on Amazon
~*~*~*~*~
~*~*~*~*~
Keltis is based on the popular 2-player card game Lost Cities. You play numbered cards (in color/symbol sets) either from low to high or high to low thus advancing your stones along their paths to their destinations and victory.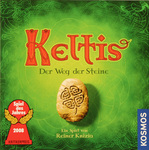 Game: Keltis – SdJ 2008
Players: 2-4
Theme: Explore unknown territory
Genre: Manage a hand of numbered cards in several sets
Length: 30 minutes
Cost: Check price on Amazon
~*~*~*~*~
~*~*~*~*~
Another card game is Dominion. This fun game is played without a board, but there are 500 cards in the box. Not all are used in any one game. Though this is not a collectible card game (CCG), the construction and play are similar.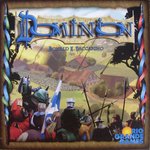 Game: Dominion – SdJ 2009
Players: 2-4
Theme: Build your dominion over neighboring knights
Genre: Increase your hand of cards efficiently for the most points
Length: 30 minutes
Cost: Check price on Amazon
~*~*~*~*~
~*~*~*~*~
Dixit is Latin for "he (or she) says". It's sort of a cross between the traditional, generic dictionary game and Apples to Apples. Say something semi-cryptic about your card so that some of the other player guess which one it is when several are revealed.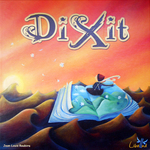 Game: Dixit – SdJ 2010
Players: 3-6
Theme: Fantasy artwork inspires your imagination
Genre: Party game
Length: 30 minutes
Cost: Check price on Amazon
Spiel des Jahres – The Last 5 Winners