Dice Town Was a Nice Surprise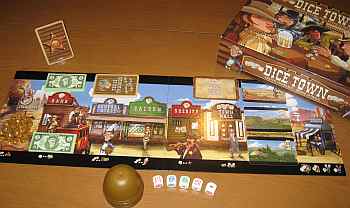 Elvis, or a not-very-close-to-real-imitation of him, entered our building today at work to cheer us all up and to help convey management's thankfulness for our hard work. He was a decent guitarist and singer and was obviously enjoying himself, as were most of us – chiefly due to the uniqueness and unexpectedness of his visit.
Pleasant surprises once in a while are…well….pleasant, and they…yes…take you by surprise. (Thank you, Captain Obvious.)
The last game I can recall being a pleasant and unexpected surprise was probably Dice Town. As the title suggests, there's a whole lotta shakin' goin' on. The dice, however, are not the standard d6's. They're specialized dice that have the standard deck of cards equivalents of 9's through Aces; that is, 9, 10, Jack, Queen, King, and Ace.
Your goal each round is to shake the best poker hand, or at least one that will reward you with something useful from the game board. The rewards in this Bruno Cathala / Ludovic Maublanc game are gold nuggets, cash (from robbing the bank), cards with special abilities (from the General Store), the chance to steal cards from an opponent (as a lady charmer), becoming the sheriff with decision-making ability, staking a property claim (victory points), and more.
Almost everything you collect has a value. Be the richest varmint in town at the end of the game, and you win.
Dice Town is a noisy hour of fun, unless you play on a felt-covered table.
Check the price of Dice Town on Amazon.
Elvis Has Entered the Building in Dice Town