Balking at Electronic Board Games
Tichu is now available for the iPhone.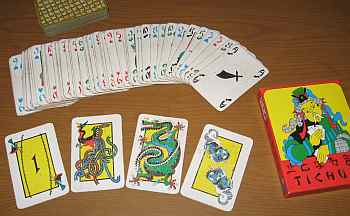 Tichu is a partnership card game for 4 people.
Why would you play Tichu on your iPhone?
I own Tichu. I don't own an iPhone. (I do own a cell phone, and there are no land lines at our house.)
With that introduction, let me take a step or two back.
I've been a little uneasy about the concept of board games being given an electronic version. I like playing board games for the feel of the cardboard, the wood, the plastic, the card stock, the glass. I like playing board games for the conversation, the trash talk, the in-game fights, revenge, trouncing, squeaking or eking out of a win. I like playing board games for the post-game analysis, figuring where I went wrong and where I went right, chatting up the same with my opponents and partners. I like playing board games for the looks on the players faces, the high fives, the subtle signals, the groans, the laughter.
Almost all of that is lost trying to play an electronic board game.
And yet, I was willing to concede that there could be times when electronic is the way to go – though I've not really attempted that method personally.
Then I read about Tichu coming to the iPhone. It was the proverbial straw that broke the camel's back. I'm not sure why this announcement struck me with such force, but it did. How can you possibly play a decent game of Tichu on an iPhone?
Update: Apparently it is quite possible to play Tichu online.
I assume (correct me, if I'm wrong) that 4 people would each play from their own iPhones and that each would therefore likely be in a different location. In my mind, that totally defeats all the purposes I have in playing a board (or in this case, card) game.
I could rant and rave some more, but you get the idea.
So I'll continue to promote playing real board (and card) games here at Fun Board Games. You can read about them here online. Get ideas for purchasing new board games online. Even discuss them here. But go play them face to face with your friends and family – maybe even PiP.
Electronic Board Games: Why I Don't Like the Concept