Crokinole Is Lots of Flicking Fun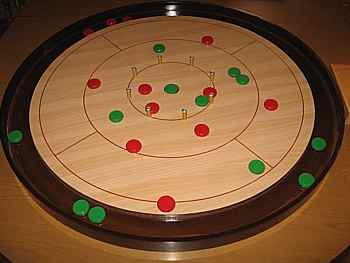 Last year MayDay Games decided to produce some relatively inexpensive ($99) Crokinole boards. Not too long before I saw their announcement on Board Game Geek, I had been drooling over the more expensive ($200+) boards, wondering if I could ever afford one. After I spotted the MayDay offer, which included the opportunity to preorder one, I was third to get in (on)line.
The boards were outsourced to China and imported to the US. There were delays, but I waited patiently. Finally, they started shipping, and mine arrived a few weeks ago. There were some very minor defects in my board, but nothing as bad as what a few others were reporting, and certainly nothing that made it unplayable. For all I know about Crokinole and for all my previous experience with the game (zilch), it was a great board.
Crokinole, which originated in Canada, is sort of a combination of shuffleboard and curling. (Remember curling from a recent Winter Olympics?) For those familiar with pool or billiards, it has that feel too, as you try to carrom (yep, that game too) your disks off others and into the goal in the center of the circular board.
My wife thinks it's a game that belongs in a bar. We don't frequent bars, inns, or taverns, but we're enjoying the game all the same. Just this week I ordered a set of higher quality red and green disks. The set came with the standard black and tan (natural wood) disks. The new disks are crafted in Canada and aren't very expensive. Unfortunately, I can't say the same about the cost of shipping from Canada – more than twice the cost of the disks.
Worth the price? Absolutely. With just a little care, my Crokinole board should last a good, long time and provide many half hours of disk-flicking pleasure (and pain, if you don't flick properly).
Check the price of Crokinole boards on Amazon.
Crokinole, My Most Expensive Game – Worth the Price?