Wonderful Games for 3 or More Players
Good 2-player-only games abound – chess, Hive, Lost Cities, Aton, backgammon, Odin's Ravens, and so on. Yet for some reason, my wife (and I think to a lesser extent, me) don't care for them as much as we like 3-or-more-player games.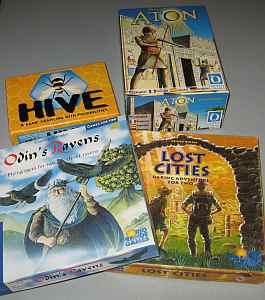 While we prefer to actually have 3 or more players involved in a game, sometimes that just isn't possible, leaving just the two of us.
We've had lots of fun with 2-player Agricola (including Farmers of the Moor), Le Havre, San Juan, Castle, Masons, Carcassonne, Thurn & Taxis, etc.
And we're just starting to dig into At the Gates of Loyang. However, we don't like games where you must include dummy players to make it work.
What would you suggest for great fun board games for 2 players – without a dummy – that can also be played by 3 or more?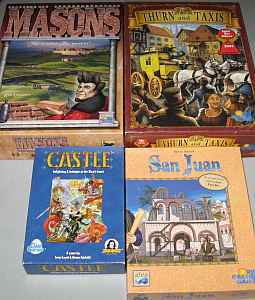 We're not college students, but if you think your suggestion would be enjoyed by college students as well, please say so.
Sorry, comments are now closed for this topic, but you can use the Contact page if you'd like to contribute your ideas.
3p+ Games Still Great for 2p