Gather Your Fossils One at a Time
Fossil is a set collecting board game in which you explore a board full of tiles that show pieces of fossils. The more you collect wisely, the more famous you become, and the more likely you are to win the game.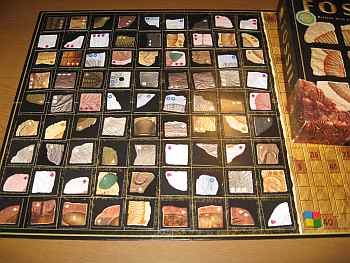 There are two movement or exploration stones on the Fossil board. These are actual polished rocks, not just some bits of plastic. Each turn, you move one of them in a row or column as far as you wish.
If your move passes over fossil tiles (that you won't be keeping), pay a penalty in "fame" (victory) points – apparently for letting fossils just lie there out in the open.
Your task is to collect sets of tiles from the same fossil so that, when the entire fossil – each is made of 9 pieces – has been collected, you will have the tiles that earn you the most fame. If you have no tiles of a given fossil at that time, you actually lose fame points for not getting in on the action.
Each tile has a value from 1 to 3 points. Collecting the higher values is good, but even getting one of the 1-value tiles is better than nothing.
Fossil tiles are the standard bits of cardboard you find in many tile games. The tiles you play with in Castle, a game by Bruno Faidutti, are actually square cards. See if you like the fun board game Castle as much as my wife does by reading the next post.
Check the price of Fossil on Amazon.
No Need to be a Paleontologist to Like Fossil