Check Out Patch.com
You may be familiar with Patch.com (or the related Patch.org) which promotes itself as "your source for local knowledge you can't live without." It does for local news what Craigslist does for bartering and Groupon does for coupons.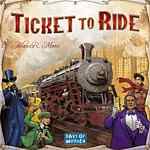 The Patch site based in Woodbury, MN, interested me today because it contained an article about board games written by Angela Johnson in her corner called Angela's Angle.
Another reason that Woodbury interests me is because my wife's parents and an uncle live there.
Angela mentions Ticket to Ride, Rage, Apples to Apples, and Blokus among several other games she plays with her family.
"Each year I'm introduced to some new board/card games by fellow game lovers. I'm drawn out of passivity into a shared experience around the kitchen table. It's always fun! Plus, playing games together creates special and often hilarious family memories.
"The benefits of board games aren't strictly social. Cerebral benefits for all ages can include critical thinking, focus, strategy and practice evaluating situations. For younger players, learning to win and lose, practicing honesty and fair play are useful skills developed by game playing."
Keep it up, Angela.
Patch Spreads the Good Word