Scrutineyes Is a Beautiful Game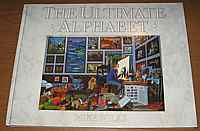 Scrutineyes has beautiful, engaging artwork created by Mike Wilks. Half of the pictures to search are from his book The Ultimate Alphabet
composed in 1983. The Ultimate Alphabet was originally a contest in which you had to find all the objects in each picture, one picture for each letter of the alphabet.
Wilks produced other similar books such as The Ultimate Noah's Ark
and The Ultimate Spot-the-Difference
. He also provided an answer book for the contest called The Annotated Ultimate Alphabet
.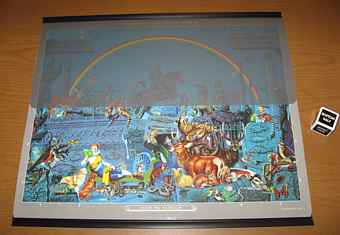 Scrutineyes makes a board game out of the contest book.
The other half (the flip sides) of the artwork in Scrutineyes is funny cartoons that remind me of Where's Waldo?
Scrutineyes brings the thrill of the hunt, if not to a new, at least to a different level.
No matter how many times (almost, see below) you scan the pictures – and there are a lot of them – you'll find something you hadn't noticed before, either because you couldn't see the forest for the trees or vice versa.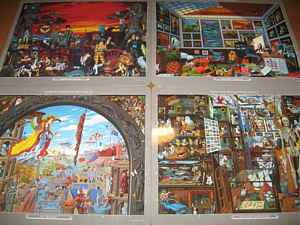 A good portion of the fun of in Scrutineyes is learning from other players the names of new objects. "Oh, that's what a D looks like in Hebrew?!" "Whaddya mean, 'semaphore'?" With intelligent players (at least one smarter than yourself), Scrutineyes can be quite an education.
I'm not going to explain the rules that actually come with Scrutineyes because they're all wrong to my (our) way of thinking. Teams?! Whisper?! And only about a minute to search? C'mon! This is supposed to be a solo game where you find more unique answers than anyone else.
Here's how we play:
Decide on the Mike Wilks art or the cartoons.
Roll the die to see which half (top, bottom, left, right) to cover.
Set the timer for 3 minutes.
Write down as many items as you can before time runs out.
Pass pictures to the left and repeat until everyone has seen every picture.
Take turns reading lists of objects found aloud to eliminate duplicates.
Repeat #1 through #6 again, trying not to write down anything already mentioned.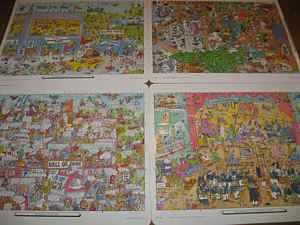 If you do write down something previously used, you lose 2 points. Otherwise score 1 point for each of your unique items.
Playing Scrutineyes a lot and frequently could lead to too much familiarity with the pictures. That said, you do only get to see half of each per game, so that should make this even less of a possibility than you might think at first.
We usually use either a microwave or a cell phone to silently "tick" off the 3-minute sessions.
Scrutineyes can be difficult to find these days. Get your copy while you can at Amazon.
The Artwork of M. Wilks in Scrutineyes