Conventions Can Be Great Fun
Today I attended a gaming convention (Con) called the Milwaukee Summer Revel (MSR). It's been held annually for several years solely as a Role Playing Game (RPG) Con. This year an area board gamer organized the board gaming portion at the Con which is held at the Tommy Thompson Youth Center at State Fair Park in Milwaukee (Wauwatosa).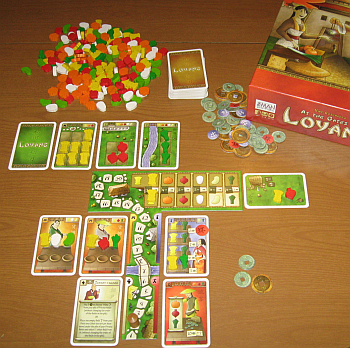 For $10 (pre-registration, $15 at the door), you could play all day Friday (yesterday), Saturday, and Sunday. I don't know if that excellent pricing will hold for future years. I didn't attend Friday as I was at work, and I probably won't be attending tomorrow either. Just have other things that need tending to. (Yeah, priorities screwed up, I know.)
I did enjoy my time there today though. I got to learn 2 new games – Yggdrasil and Keythedral. I taught Yspahan to someone whose name escapes me. I helped a newcomer to the game of At the Gates of Loyang. I saw just a few familiar faces and met almost 2 handsful of nice new people.
Today there were probably 40 to 60 people in attendance. I counted about 40 at one point and think there were more later but didn't get an accurate count. That was just the board gamers. The RPGers on the other side of the room numbered at least as many.
I think that if this happens again next year – which I think it will – I'll probably volunteer to teach several games. After all, I already taught one this year without even planning to do so ahead of time, and they're always looking for folks to lead/teach games.
I didn't publicize this ahead of time because I had never been to a Con myself and wanted to get the feel of it before I told everyone else it was the best thing since sliced bread.
MSR is the best thing since sliced bread, so plan on attending next year.