The Lost Mummy is a printable escape room kit that takes the whole escape room experience, and plops it right in the middle of your living room.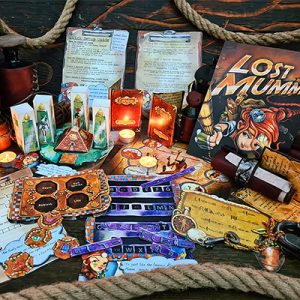 But I have a small surprise, I've got a special guest reviewer to help me review Lost Mummy… well actually… I've got three!
I asked the Hivemind from Room Escape Artist to share their thoughts on the game, and they graciously agreed. Thanks guys!
So without further ado, I'll hand this post over to them. Take it away guys.
Lost Mummy is a print-and-play escape game created by Lock Paper Scissors.
Style of Play:
Play on demand
Print-and-play
Required Equipment: computer with internet connection, printer, pen and paper, scissors, tape or glue
Recommended Team Size: 1-4
Play Time: no game clock, but adult players took about 30 minutes.
One reviewer set up this game for her kids. She notes, "my kids took about an hour, including the search elements I added."
Price: $29
Booking: purchase and play at your leisure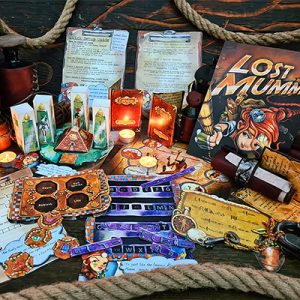 You are on a quest to use your grandfather's journals to find a lost mummy near Tutankhamun's tomb.
The most basic form of this quest is a table top experience in which you print, cut, assemble, and analyze five puzzles. You capture answers on a central mission page. To verify the answers, you consult an online hint/ solution guide (which is also available in the game's ZIP file).
However, beyond this basic setup, this game was designed to be used as a kit for creating an escape room party. For the party version of the game, a host prepares and hides the puzzle components throughout a room. In this setup, players have the added task of determining which pieces of information correspond to which puzzle. This version can be enhanced with an optional physical challenge at the end.
So, is the game any good? Come find out!
Lost Mummy Review by Room Escape Artist Hivemind