micropul Is a PnP Game Worth Printing and Playing
micropul is a tile laying game for two players that you can get for free. (The official name "micropul" is not capitalized.) micropul is a print-and-play (PnP) board game that is available at Board Game Geek or here. The original version was created in black and white, but it has since been redone in color and also in several other fancier designs.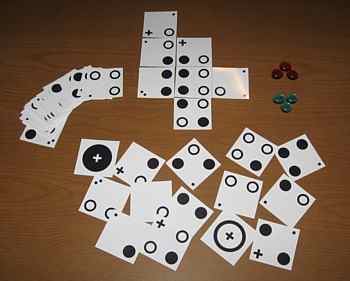 You can also play micropul as a solitaire game.
You start micropul with a hand of 6 tiles. Each tile has either black or white (or both) circles in the corners. Many also have either small dots or plus signs.
The dots are known as catalysts which allow you to take more tiles from the general supply (core) in to your personal supply. From there they can later be added to your hand.
The plus sign is also a catalyst which allows you to take another turn. Thus it is possible to take several turns in a row instead of the normal single turn.
There are restrictions on tile placement, points for grouping and claiming circles of your color (black or white), and more points for tiles remaining in your personal supply at the end of the game, which comes when the core runs out of tiles.
micropul is a fun board game of tactics and outmaneuvering your opponent. If you like tile games – especially games that are free – check out another print-and-play game called Snake Pit, examined in the next post.
The Tile World of micropul