If You Have Scruples, You Won't Play This Game
It's not often that I write about games I don't enjoy, but I'll make an exception here. A Question of Scruples is a game to avoid unless you don't mind admitting to doing illegal and immoral things and/or lying about them.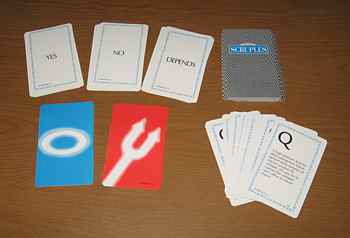 A Question of Scruples consists of question (called "dilemma") cards, answer cards, and voting cards. You start with 3 answer cards, which show a random assortment of "Yes", "No", and "Depends" responses.
You direct a question from one of these cards to another player and secretly play an answer card based on how you think he will reply. If your answer card matches his response, you get to discard your answer card. If not, you discard but must pick a new one. The first to get rid of his answer cards wins.
The question cards all pose some situation in which you are asked if you would do the right thing or not. As a question reader, you are asked (according to the rules) to "assess each player's character and choose someone you think will most likely give you an answer that matches the reply card you have." Think about that. Is this supposed to be fun?
The rules also suggest that "to be a skillful answering player, guess what the asking player expects you to say and give a different answer." It doesn't seem to matter whether the answer you give is correct or whether it's a lie. "To do so, you might have to do some shrewd bluffing to defend such an answer!" Really.
Furthermore, "to increase the amount of provocative conversation" you can add the challenge option. After the answering player replies, his answer can be challenged. Discussion ensues and finally a vote is taken. If you think he answered sincerely, show a blue halo card. If not, show a red pitchfork card.
Again, is this supposed to be fun? Tell you what…Before you leave, try another page for an actual fun board game like Qwirkle.
I have never played A Question of Scruples. I picked it up at a thrift store just to see what it was about. Now I know. To get rid of it, I'll probably have to return it to the thrift store. If you really want to give A Question of Scruples a try, I'll send my copy to you for the cost of shipping.
Questions of Scruples for the Unscrupulous