Learn Proper Usage of a Squeezy Toy
Wordsearch (aka Wordquest, and not to be confused with Wordsearch from Parker Bros.) is a quick, party-style word game based loosely on typical traditional word search puzzles. You will enjoy this if you like light competition and little challenge.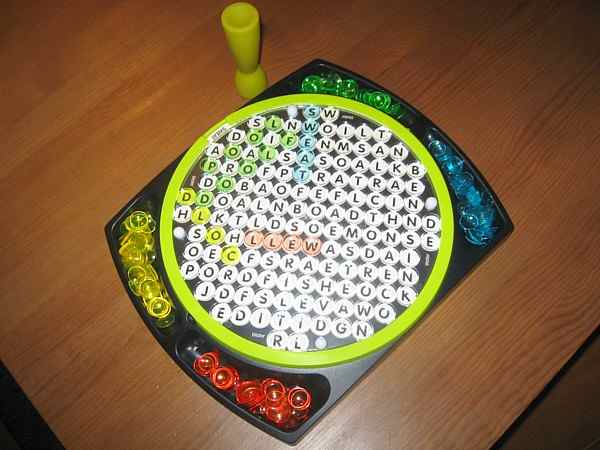 Your goal in Wordsearch is simple. If you find the most words before anyone else, you win.
A nifty, circular board holds one of 10 double-sided game cards showing a grid of letters in which words are "hidden" as in the traditional puzzle. On the edge of the board, one word to find is revealed.
The words in a given puzzle all relate to a theme, such as "water". When you spot the word, which can be spelled in any direction, you grab the yellow squeezy toy and squeak it. Then you put curvy, clear, colored, plastic tokens on the letters of the word in the grid.
The tokens are fun to play with all by themselves, and there are normally plenty of extras with which to play. If that placement intersects someone else's word, they must remove their tokens. Bummer.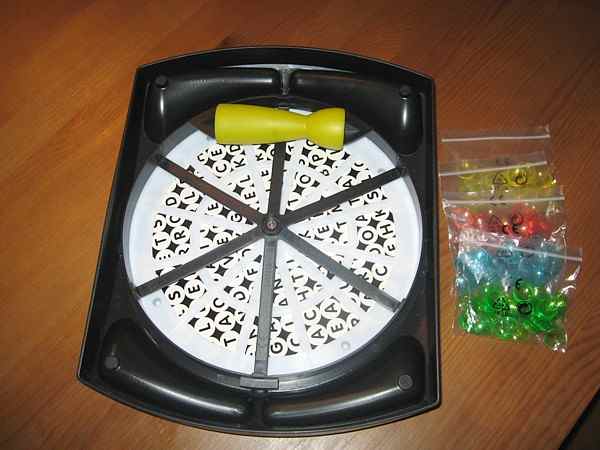 After a word is found, you turn the board to reveal the next word. Play continues until all words have been found or someone uses all their tokens. The winner is the player who has played the most tokens.
The design of Wordsearch is clever, including the ability to store the squeezy toy (called the "totem") under the board.
There is no room for strategy here. It's all about speed and word recognition, so if that's all you're looking for, have at it.
Wordsearch is probably best played with younger children who can read. While reading isn't truly required, familiarity with the words will definitely help speed the search. There isn't much here for adults only, unless you're looking for a really light challenge.
Fun Meters (out of 5)
Party: 2
Strategy: 1
Family: 5
Wordsearch, Just the Board Game You'd Expect