Place Your Knight of Charlemagne Where They Belong
Chances are that you're more likely to have heard of the card game Lost Cities than of the similar game Knights of Charlemagne. Perhaps you even already own Lost Cities and love it. The problem (if it can be called that) is that Lost Cities is limited to 2 players. If you have 3 players in the room, you're not going to pull Lost Cities off the shelf.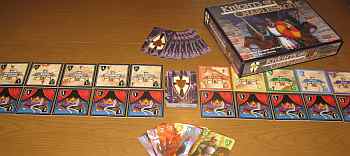 That's where Knights of Charlemagne comes in handy. The game play and strategy are very similar to Lost Cities, but you can play Knights of Charlemagne with 2, 3, or 4 (teams of 2) players.
You lay out several large, very thick tiles which you hope to collect for victory points at the end of the card play. There is a 5-point tile for each of the 5 card colors – red, blue, yellow, green, and purple. There is a tile for each of the card numbers – 1 through 5 – which are worth the corresponding number of points. You lay out those tiles and place a 1-point treasure tile next to each. There is also a 5-point bonus tile awarded to the first player to win 2 manor (#1-#5) tiles.
Card play is simple. From your starting hand of 8 cards, play one next to the matching colored tile or next to the matching numbered tile. Draw a new card. That's it.
After all cards in the deck (2 of which have been removed at the beginning of the game) have been played, award each tile to whomever has the most cards next to it. If there's a tie, flip it over and give it and the nearby treasure tile to each player, giving each player 1 point. High score wins. You might want to play several games of Knights of Charlemagne in a row as is normally done in Lost Cities and then add the scores together.
Knights of Charlemagne is simple enough that kids can compete with and do well against adults. It's also challenging enough that you can't call it a kids' game. Reiner Knizia, the designer, treads that fine line between the two giving us a fun card game that everyone can enjoy.
Get Knights of Charlemagne at Amazon.
Knights of Charlemagne – Lost Cities for 3